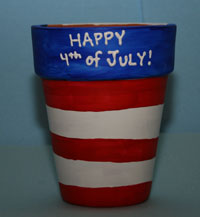 © All Kids Network, 2017
You know it's summer when the 4th of July rolls around! Keeping the kiddos active and entertained all summer can sometimes be a challenge, but it doesn't have to be when we have so many great FREE art activities at our fingertips. I've compiled some wonderful websites that offer free printables, activities, games, craft projects, lessons and more. And since the 4th of July is just a few days away, I'm starting there.
DLTK's Crafts for Kids
DLTK's Crafts for Kids has a ton of great FREE artsy activities for kids.
Their page of Independence/USA printables
is sure to get kids and adults excited for the holiday.
Coloring Pages for Kids
DLTK's sister site, Coloring Pages for Kids, has a wonderful array of 4th of July and USA-inspired kids coloring pages.
Check them out here.
Tip Junkie
Tip Junkie is an awesome website for crafts, printables, activities and more.
You can find a generous page of 4th of July activities, games, crafts and printables for kids and adults here.
Mr. Printables
With a name like Mr. Printables you just know this site will be chock full of ideas and inspiration.
Check out their 4th of July Activities page here.
Mom Junction
Mom Junction has a wide variety of craft activities for adults and kids of all ages. Their
35 Best 4th of July Coloring Pages for Your Toddlers
will keep kids entertained and busy for a while. Don't let the "Toddlers" in the title fool you - these coloring pages are definitely suitable for any age!
Hello Kids
Hello Kids is a wonderful resource for teachers, parents and kids K thru 8th grade.
You can find a terrific collection of Independence Day coloring pages here.
Crayola
Crayola.com is another great craft resource.
Their page of Independence Day printables includes a variety of educational and fun printable activities for children.
Easy Peasy and Fun
The
Easy Peasy and Fun website
has compiled a convenient and
downloadable PDF of adorable 4th of July graphics for kids to print, cut, color and share.
Raising Our Kids
Raising Our Kids shares
two pages of cute and vintage-looking 4th of July coloring pages for kids
of all ages.
All Kids Network
I've saved what I think is the best of all 4th of July resources for kids. You HAVE to check out the All Kids Network! This site is a goldmine of ideas, inspiration, activities, games, you name it, for teachers, parents and kids. Check out their
Kids 4th of July Crafts page here,
but be sure to stick around to find tons more goodies! Their projects, materials lists and instructions are topnotch!